Let's Celebrate This Successful Year With a Win or rather: A Preview Slovenia-Georgia
November 16th, 2010 | by: Zala |

Comments Off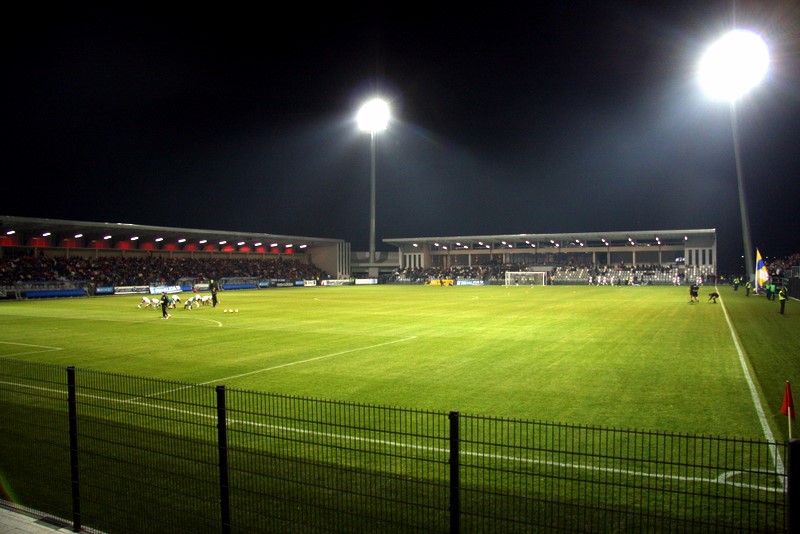 Can we win on another "new" stadium?
Friendly Slovenia-Georgia
17th November 2010
20 45 CET
Koper Bonifika
Before I start about this game I have to tell you (I hope I haven't told you this already). Italy got 3 points for that game against Serbia (it was delayed because of the angry and disturbing fans). They were given a win with 3-0 and so we are second in our group. I doubt they'd pull off a win like this. I think it would've been a draw. But okay, thanks to Serbian angry fans we'll have to fight a little harder -.- But where's the problem. If we want to earn the spot on this Euro Cup we have to do it right.
And now the preview:
Bonifika in Koper was renovated a few weeks ago and tomorrow is the first time our guys are playing on this new Bonifika. Can they manage another win and end this amazing year? It would be really good to have another and last win (this year of course) just to bless those historic 4 points on the WC and much more.
Kek called up 21 most regular players: Samir and Jasmin Handanović; Brečko, Jokič, Šuler, Cesar, Mavrič Rožić, Ilič; Koren, Kirm, Radosavljevič, Iličić, Bačinović, Stevanović, Birsa, Vučkić; Ljubijankič, Novakovič, Dedič, Matavž and Pečnik.
I think Kek will try various possible line-ups just to try how the things work. He will try to find best ways to win the following important games (from March on).
Georgia in a small country, not as small as ours, though. They have 2times bigger population and a little bigger area. Their team's first match was in 1990 and they've tried to qualify for every big tournament ever since, but haven't succeeded yet. They are in group F (qualifications for Euro 2012) and they are 3rd right after Greece(8pts) and Croatia(7pts) with 6 points. They are doing just fine. They even might succeed this time. I wish them best, but this time they are our opponents.
As I mentioned before they aren't bad. Not even close. Being 3rd in a group is very good, but we are still the favourits. I hope it stays that way and I think with a little hard work we can pull off a win. Our line-up will be I think the usual 4-4-2 and there'll be some new faces in the staring 11. Kek will try with a offensive start and hopefully score early. Scoring early means there is time to combinate with players.
I predict a 4-0 result(for us-I'm always the optimistic weird girl) and I hope to see some new faces on goal scoring list
More news:
Our little boys from U 21 lost against Croatia (friendly, too) 2:1.
Birsa is rumoured with a move to Liverpool, our guys are scoring and Simič is bored so he has to make some more troubles.
There was something else I wanted to share. I hate my bad memory, seriously-.-".
Oh yes, if you want fast news about the game tomorrow than join our Facebook site and I'll be sharing with you all bigger moments through the game.
I'd be more than happy if you commented below, because I feel kind of stupid being without comments and stuff (I know you're reading 'cause I get the stats every month and for a small country as ours the stats aren't even bad!)
Oh and I hope some of you got the ticket for tomorrow's game. I think it'll be fun to watch it. It's already sold out, though. I wanted to go, but I can't because it's midweek and I have to go to school -.- xD
Now, my prediction result is 4-0. Yours?
Enjoy and join me tomorrow on Facebook!
Subscribe

Slovenia World Cup Team Blog RSS Feed

Share
Comments are closed